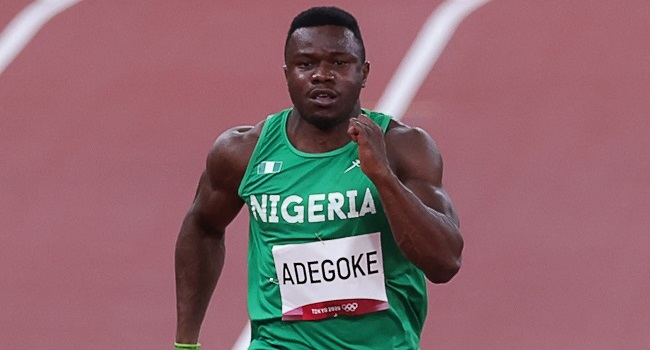 By- Oma Akatugba

Going into the Tokyo 2020 Olympics, Nigerians had high hopes about the potential of athletes representing the country in the games.
The likes of Ese Brume, Blessing Okagbare, Divine Oduduru, Tobiloba Amusan, Blessing Oborududu and many others were top names on the possible medal hopefuls for Nigeria.
While fate struck on its day, the poor preparations and absence of organisation of the Nigerian contingent was a regular feature. From the disqualification of 10 Nigerian athletes due to Out of Competition testing to the suspension of Okagbare for a failed doping test, Nigeria looked to struggle for glory in Japan.
At the height of dispiriting showings at the games, a 21-year old graduate of the Obafemi Awolowo University, Ile-Ife, Enoch Adegoke proved to be one that would lift Nigerians' spirits. After racing to a 9.98 Personal Best finish in the Heats, he sprinted 10.00s to qualify for the final, a race which was won for anyone to win, as it was open.
A spirited Adegoke had enjoyed a good start in the men's 100m finals at the Olympics until an unfortunate hamstring injury stopped him midway into the race. It was a devastating reality for Nigerians, who had looked on to him for some glory. Despite the injury, the young sprinter had managed to become the first Nigerian in 25 years and 5 Olympics to race in the final of the blue riband category.
In this interview with Adegoke, he shares his thoughts on his outing at the Olympics, the treatment of Team Nigeria, the place of prayers and preparation for a good performance and the need for private sponsorships of sportsmen in the country.
Question
You have been a topic of discussion after qualifying for the final of Tokyo 2020, how does it feel like being that you are not a footballer and considering we are more into football in Nigeria?
Enoch
It has been an honour and it feels good. A lot of people sending me screenshots from Twitter saying I am trending, and I say to myself, can you really trend like this? It was a surprise. The love and support have been overwhelming. I really thank God for that.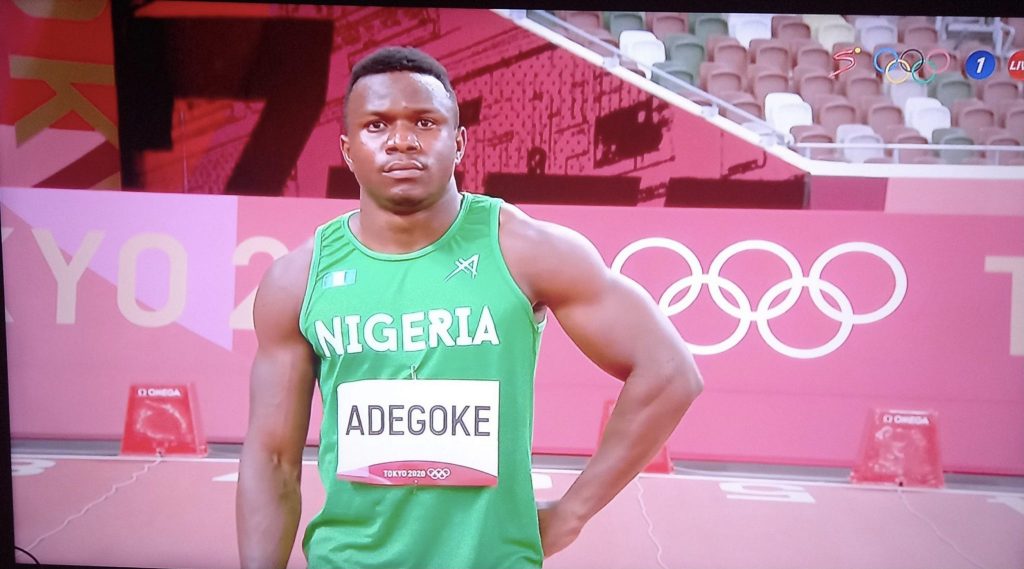 Question
You could not meet our expectations in the final due to that Hamstring injury. How did that make you feel?
Enoch
Immediately it happened I felt bad a bit and well, I had to pick myself up immediately and look forward to the things to come. It feels somehow, having an injury in your final race. I knew I was in the mix, and anything could have happened. Before it all happened before the injury came in. I believe God knows better and everything happens for a reason. I felt bad a bit but then, I am not dwelling on it.
Question
Is there anything that could have been done to prevent that injury? Because I heard some things about the doctors not doing their job and all that. I am not a medical expert, but can this type of injury be prevented?
Enoch
I think it can be prevented and minimized to the lowest rate. Well, the medical team prepared me ahead of the finals and I was feeling good before the race, as I always say, some things cannot be prevented sometimes. It is nature.
Question
How do you feel representing Nigeria at the Olympics. Describe the feelings?
Enoch
It feels great wearing the green and white. It feels golden, it feels amazing. To be sincere, I am more than proud of myself to be able to represent Nigeria, I just feel great and I do not know how to describe the feelings much more than that,
Question
A few of you in team Nigeria has done an amazing job, You, Ese Brume, Blessing Oborududu did put in a good shift. Despite the poor preparations and issues in Tokyo, you guys have been able to cover yourselves in glory. Do you feel that as athletes, you do not get enough respect compared to what the footballers enjoy? How does it feel?
Enoch
You have said it all actually. I feel and everybody knows that footballers enjoy more than any other sport. I think it is global but more pronounced in Nigeria but the past few days have shown that every athlete can get respected due to them.
Question
But don't you think that if our administrators put their house in order we can do better in future Olympic games?
Enoch
Yes, with the much-needed support from the government and the private sector in Nigeria because there are organizations that can be able to help athletes as well, Nigeria can do better. There are a lot of talents in Nigeria without the support and the few ones who have been able to get things done without support shows that we can do more with the right support.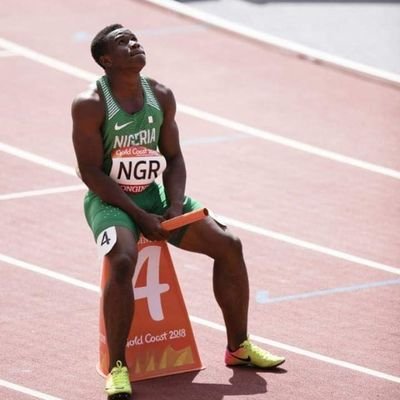 Question
Your record time of 9.97 was at first disputed by the world athletics body but later accepted. Why didn't they accept it at first
Enoch
I think that was misinformation. At the trials, the electronics showed 9.97. It was eventually being told that the monitor captured 10.00. It was not that the world athletics body didn't accept it, it was what the monitor gave to our officials that they recorded, which was 10.00. Then during my heat at the Olympics, I ran a new time of 9.97 but it was rounded up as 9.98. that is what happened.
Question
What do you make of the controversy that happened in Tokyo between our athletes and the officials after 10 athletes were banned for not meeting the three mandatory pre-tournament testing procedures?
Enoch
I do not have much to say about that. It is just a sad situation and I pray that this does not happen again next time. I think we have all learned our lessons and proper measures would be taken next time.
Question
A lot of you have attributed your success to God in Tokyo. We saw Ese Brume scream and shout the name of God before her jump, Blessing was also singing some praise and worship to God after her victory. You prayed a lot before your semi-final run. How much do you think this has helped you guys in what you have done in Tokyo?
Enoch
God is God and no man can take his place. One thing I know about God is that when you put God first he will put you first. The fact that we are all preaching and emphasizing God is not… there is no extreme to declaring the name of the lord in all these things. It is just like we have given our all to God and God is giving his all to us as well. It is a fellowship thing. We are children of God. God has our interest at heart more than we do. So everything that is happening should not even surprise anyone because God is at the helm of affairs.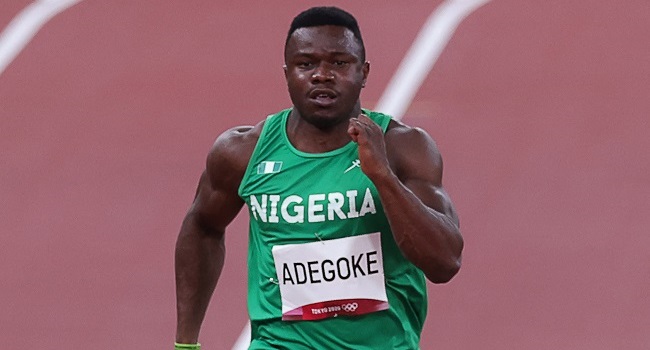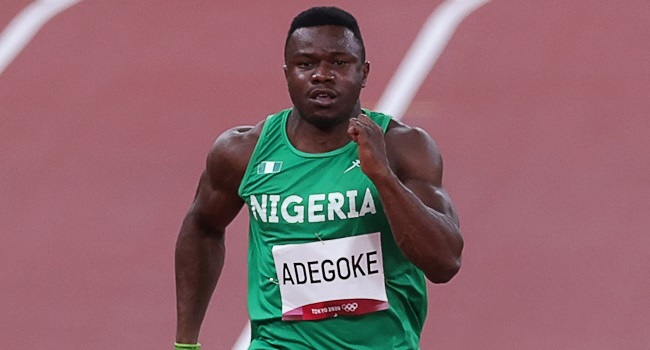 Question
As a follow-up to this question. For an athlete, some people say that the countries that are winning more medals, their athletes are not doing all of the public show of love for God and all that. That what you need as an athlete is to prepare well, to have the right support from your Olympic committee as usual and if you get the right things done, you are going to win gold whether you pray or not, what do you think about this ?
Enoch
Well, the bible preached diligence. The bible says 'Seest thou a man diligent in his business? He shall stand before kings, he shall not stand before men of low estate'. That means for anybody that is diligent, there is always a reward for diligence. But then, I know that is the physical aspect of it but there is always one thing that will stand you out when you involve God in everything you are doing, Place a man of prayer somewhere and a man that does not really pray, you will see much difference in it. Imagine me putting my hope in God, trusting God for everything, I don't just leave things for natural sake, imagine what would have happened. It is not as though, we are de-emphasizing the place of training, it is not like we are saying just pray and don't train. In fact, if I pray alone and I do not work, I will not get anywhere. That is just the fact, I would not go anywhere. But then combining my training sessions and my prayer life will bring out a very good result. This is advice to anyone who says people are just emphasising only on prayer, prayer prayer prayer and God God and all. God told us to be diligent because, without your training, there is nothing God want to bless so as we are training, we are praying as well.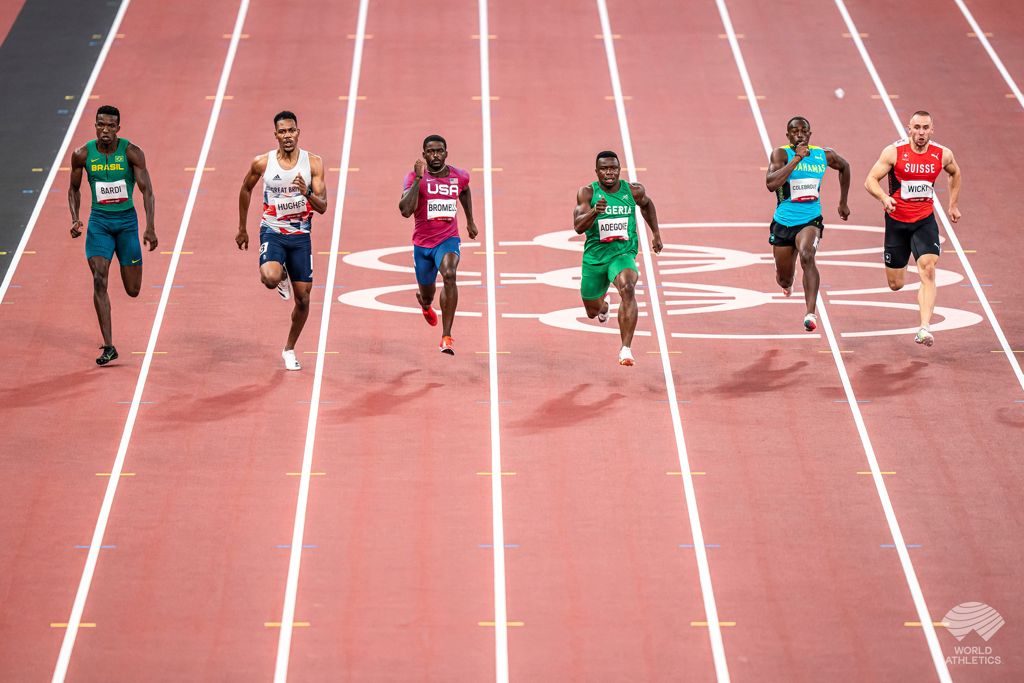 Question
You broke a 25-year-old record at this Olympics, do you think you would have gone a level higher with the right support?
Enoch
For the times I have been preparing God has really helped me even with the little support I had, I was able to achieve this. I believe if some things are being taken care of as well and I think I will do better than that. I really trust God for everything. As I said earlier, there are a lot of companies in Nigeria that can support athletes. Someone was even talking about banks and drink makers who can support athletes as it is done in many other countries in the world.
Question
So what would you say to corporate Nigeria
Enoch
Let them support us, let them pick up athletes to be like ambassadors for their various companies you know, marketing and everything. It would be a two-way thing, Athletes alone would not gain, it would be a win-win on both sides because it is not charity.
Question
How did you avoid being disqualified as a result of the out of competition testing procedures? Did you run the test yourself?
Enoch
There is no way I would run the test myself. I have to be available for the world anti-doping body have to come for me to get tested. Nigeria did a general out of competition test. I think my name was on the first test. I was able to get my test done around march 2021, I think around June, immediately after our national trials they did a random one again. We have to do at least three and it would be three weeks apart and when I got to Japan, I was able to get another one done when I got to the training camp. So that was how I was able to compete with some other persons.
Question
We have seen other athletes switch nationalities after representing Nigeria in the past. Francis Obikwelu, Gloria Alozie to mention but a few. Is this something you would consider?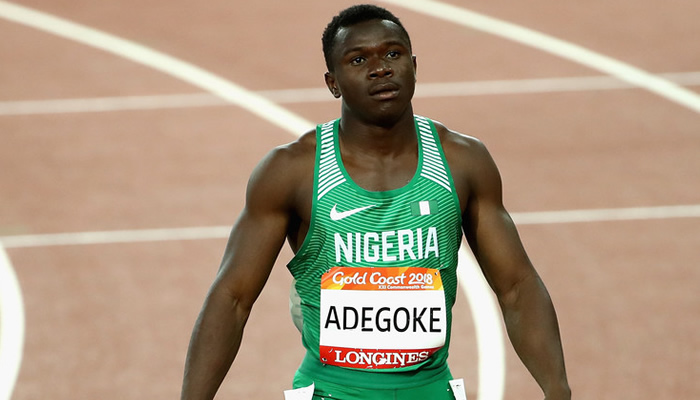 Enoch
The way it is being done in the past has changed. So, for anyone that wants to change nationality now, because I have represented a country, I have to wait for not months but years. I will not be able to represent any country. Except I want to make a sacrifice of three or four years.
Question
Without the problems, would we have done better than we did?
Enoch
I think the result this year was better than the last one. If all the issues that happened in Tokyo never happened, it would have been the best, it would have been much better than this. Because there are a lot of athletes, every athlete that was unable to compete, everyone has potential and to the best of my knowledge, I know what some of them are capable of doing. I know a lot of them would have reached either semi-final or final and would have gotten a medal or even if there is no medal, there is the hope of getting it the next time. It is not always about getting a medal but then the progress that has been made. All things being equal, I think we would do better in the next Olympics.
Question
What do you think we can do to do better in Paris 2024?
Enoch
I think there should just be a follow up to getting athletes prepared, everything that athletes need for training and all should be available. There should just be the right support both from individuals, the private sector and the government. I was saying in one of my interviews that if some things are taken away from the thought of an athlete. Things like I need money to buy supplements, I need money for food, I need money for my welfare. If all that is taken care of, the athletes will know that I just have to focus on my training sessions, let my coach do the work. If all things are taken care of, I think there will be more focus on the part of the athletes as well.

Must See
Nemo enim ipsam voluptatem quia voluptas sit aspernatur aut odit aut fugit, sed quia...

Temporibus autem quibusdam et aut officiis debitis aut rerum necessitatibus saepe eveniet ut et...