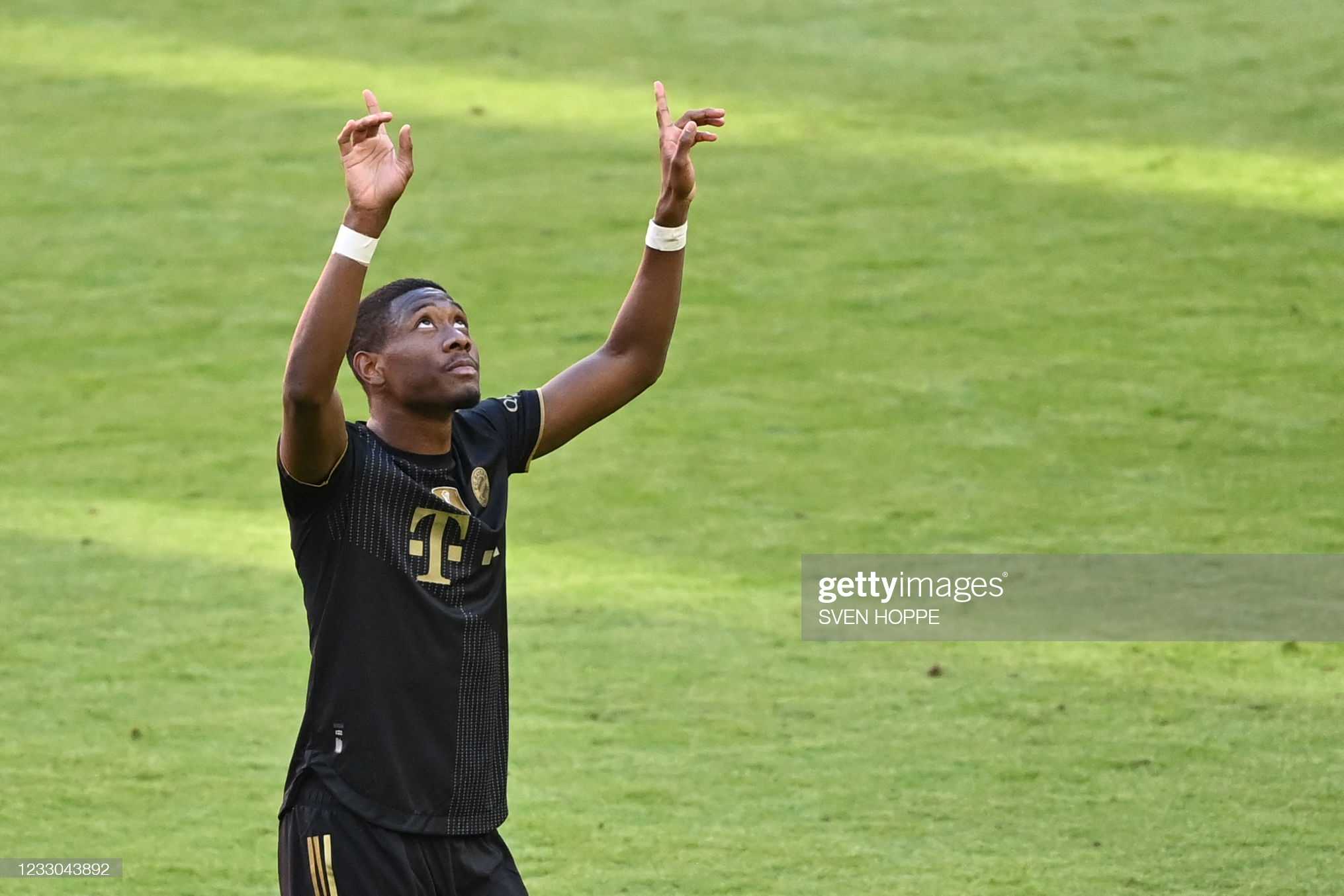 Austrian footballer David Alaba bids farewell to Bayern Munich after 13 successful years. He joined the club as a boy from Austria Wien and rose through the ranks to become one of the most loved and accomplished footballers.
He won 10 Bundesliga titles, 6 DFB Pokal, 5 DFL Super Cup, 2 Club World Cup, 2 UEFA Super Cup, and 2 UEFA Champions League.
In celebration of his years at the club, the club aired a 27minutes documentary "Danke27" to roll back the years and tell the important stories in each phase of his journey.
An emotional David Alaba told his Bayern story with tears and gratitude as he listened to messages from people who contributed to his journey and those he contributed to theirs.
Brought Into The Fold By Jupp Heynckes, Support Beyond The Game
"I think we spent a very successful time together, we won the treble. He helped me a lot in my career and is always there for me, even today. I'm grateful to him for a lot.
"I spent six months on loan at Hoffenheim and actually wanted to stay there to get some more match practice at that level. I was still 18, just wanted another year for match practice but Jupp Heynckes and Hermann Gerland wanted me to come back immediately.
"So I came back, gave everything in every single training session and then I slipped into a role as a substitute, getting to play more and more and then at some point I matured into a regular starter. Of course, he played a very big part in that because he always encouraged me, always wanted to get the best out of me and I could really learn a lot from him."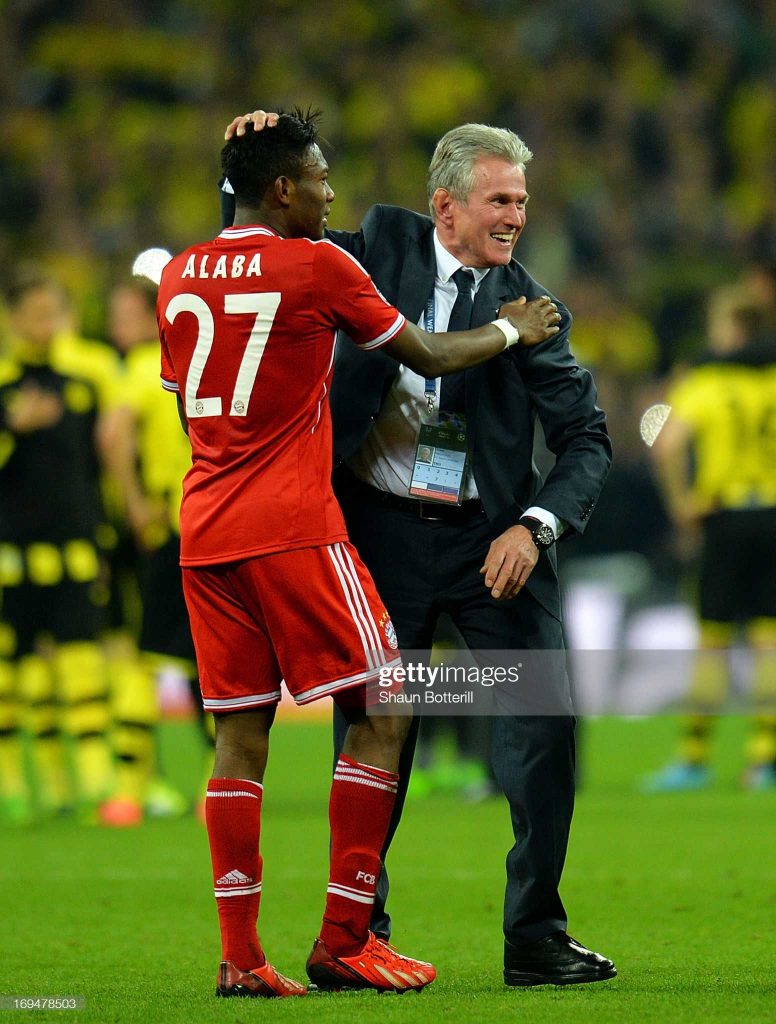 David, an unparalleled career, great, and above all you've always been a super guy, a very fine person, and I think we will all miss you and wish you all the best, good luck, happiness and success for your future, wherever that is, in whatever country.

– Jupp Heynckes
Next To Franck Ribery, Lessons Learned, Lessons Passed On
"I came into the changing room, Franck Ribery stood in front of me and said "Here, sit next to me. Sit in the seat next to me." And from that day on I think I sat next to him for 10years. Those are the moments that stay with you, where you often think back and are really grateful.
"We always had a very close bond, are regularly in touch and yes, he was a person who tried to help me from day one. I always wanted to learn from him, take a lot onboard and I try to pass that on somehow today."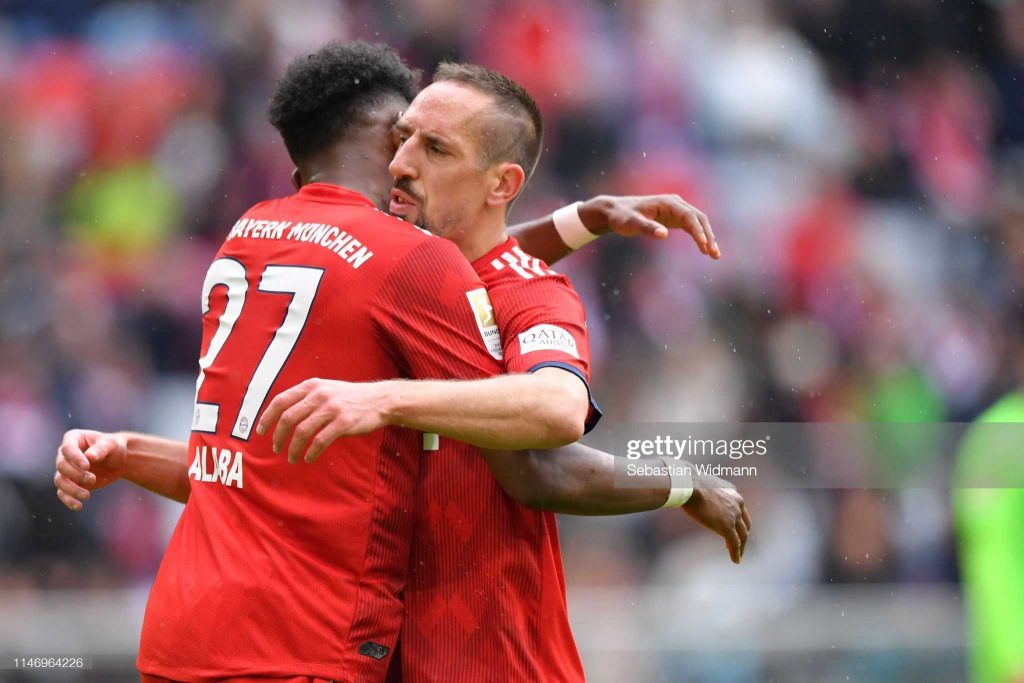 Ribery left Bayern Munich in 2019 together with his wing partner Arjen Robben, the two who formed a duo referred to as RobBery.
A Cue From Every Coach, The Steps Forward Into Responsibility
Alaba played under nine different managers both permanent and interim managers at Bayern Munich including three stints of Jupp Heynckes and played several roles including left back, centre back, wing back, defensive midfield and on the wing.
"I was able to take something from every coach, take my steps forward, maturing as a person but also maturing as a player and just gaining experience and I think that was very easy to see with me.
"I think in the last few years, I've slipped into another role or especially now in the last year or on the previous season where I've taken more responsibility, where I've become a leader on the pitch and try to lead the way."
Home In The City, Home In The Hearts of Men
Alaba reflects on an "extremely successful time at Bayern" and the success has brought him closer to his teammates. He also learnt togetherness through tough times; "For example, 2012 was a tough year and also really brought us together so we could win everything in 2013."
"I think we have a very close relationship with each other even in the current team where I know we will continue to stay in touch.
"I've been here in Munich for 13 years, the city itself is really special in my life and I feel at home here. It's certainly become my second home and will always be my home.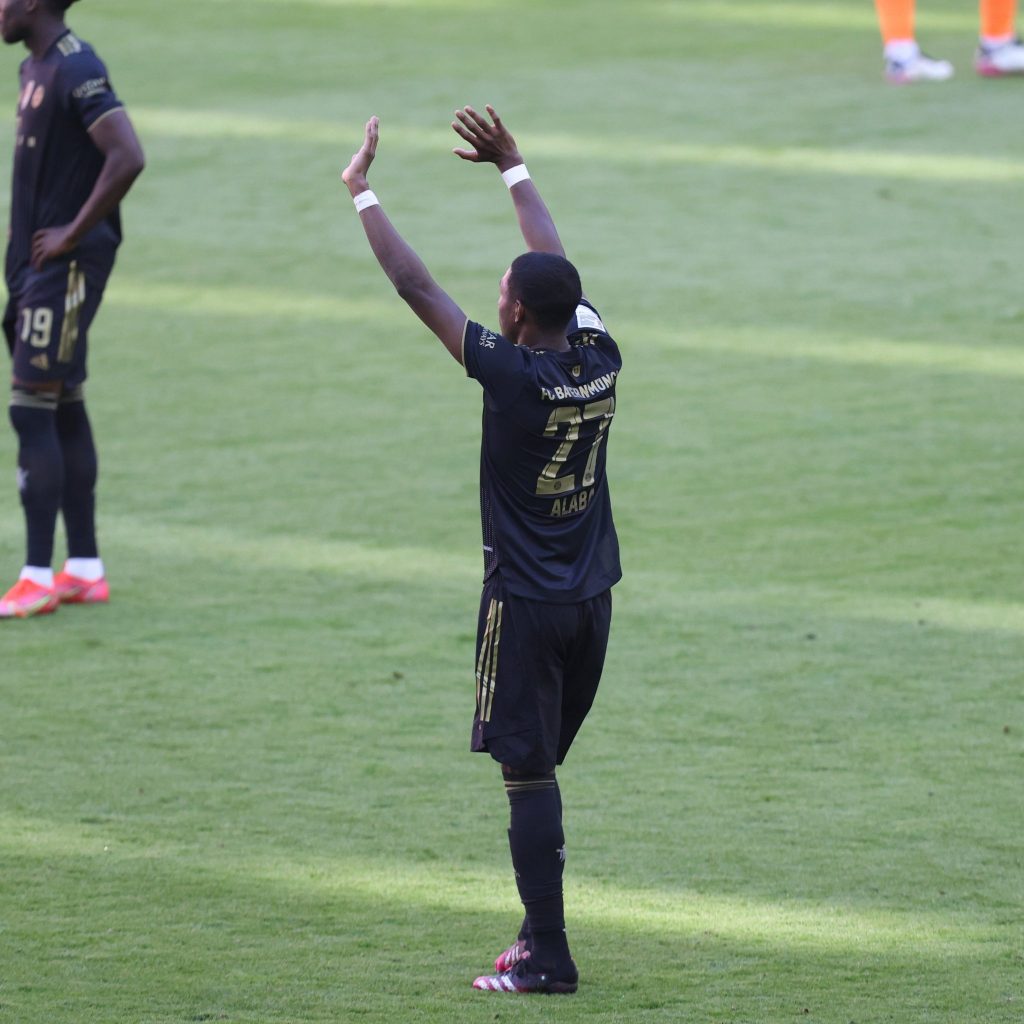 "This club definitely means a lot to me. I'm very grateful to the club, very grateful to the fans because I feel a very close relationship with the fans, and the fans are and were very important to me."
They have always supported us and me personally. And when there's a fire we're still there for each other.

Alaba to Bayern Munich Fans
You have gained the recognition, respect and sympathy of the fans in Germany, not only in Germany but also in Europe and all over the world.

— Jupp Heynckes on David Alaba
Family Pride, The End of An Era, A New Adventure
Alaba obviously is a pride of his family. They are grateful and proud of what he has accomplished and how he has accomplished it through hard work, dedication and sacrifice. It was hard for him to hold back his tears while listening to their messages.
"Hey Dave, look at what you have achieved, I am so proud of you, it's awesome. I remember you were so young when you left home and look what you've achieved. You are an inspiration not only to me but to so many others. You've simply shown us what can be achieved with hard work, discipline, courage, positive energy and gratitude, so keep it up, bro. Be proud of yourself as well. We are all proud of you and no matter what , we got you."
– Rosa May Alaba, Sister
"Hi baby, first of all, I want to say how incredibly proud I am of you. You've achieved so much in your life. You've won so many titles with Bayern, broken so many records, two or three times. I'm so proud of you. An era is coming to an end but the adventure goes on. We are leaving Munich behind us, the city we met each other, learned to love each other and started a family together and together we will now start the adventure. We are so proud of you. Enjoy your final game. We love you and are so proud of you."
– Shalimar Heppner, Girlfriend
"Hello Dave, your mum and I would like to thank God Bayern and you for the incredible success you've had in Munich with Bayern. Especially that you didn't come back to Austria in your younger years because you were homesick, but sacrificed a lot for your career and that's what makes you what you are today and this applause is from me and your mum for you. We are very proud of you, keep it up, keep being who you are. We love you. Applause." [Both gave a round of applause at the end which made him sob and teared up the more.]
– Gina and George Alaba, Parents
---
I also used to be in the stadium as a ball boy and was often a ball boy in front of the South stand or when it was the Champions League, we would have the flag in the middle.
The whole journey I've been able to take, coming from Vienna to Munich at a young age, these 13years here in Munich. It was something special and I'm extremely grateful for this time. Yes, I know that. I know I'm going to miss this very much.
It wasn't an easy decision. I am grateful for everyone around me, with my family, with my friends, the club here, Bayern Munich, the changing room, the backroom staff, the physio. I've been able to share my career here in Munich with some fine people.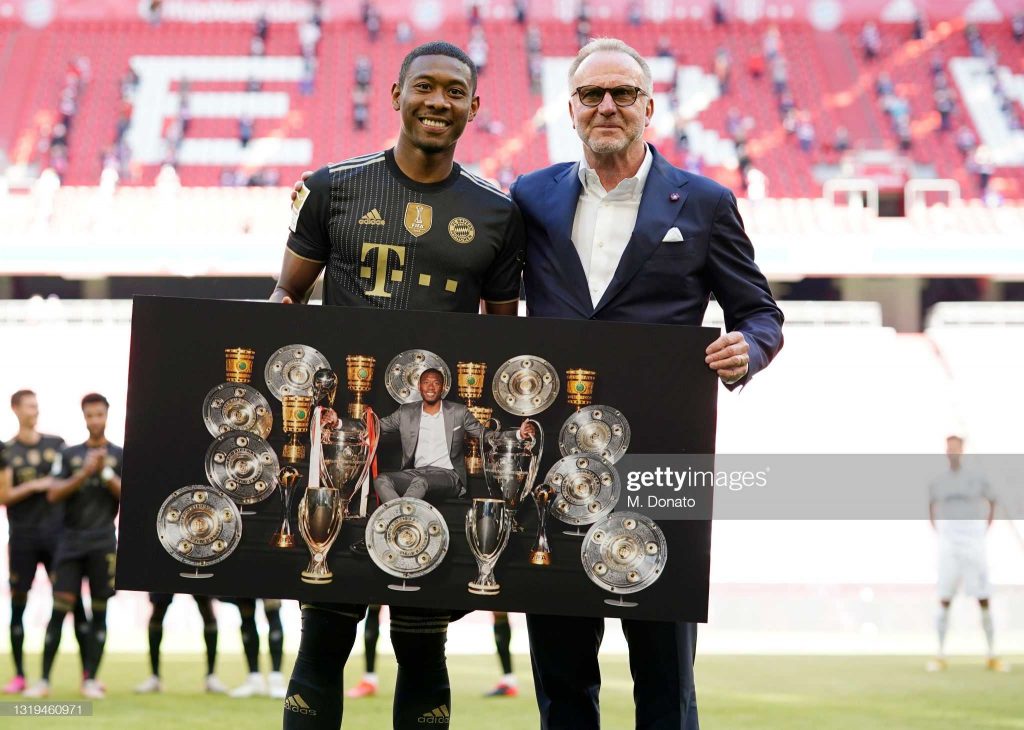 Alaba has agreed terms with European giants Real Madrid where he will sign a five year contract for the Los Blancos.

Must See
Nemo enim ipsam voluptatem quia voluptas sit aspernatur aut odit aut fugit, sed quia...

Temporibus autem quibusdam et aut officiis debitis aut rerum necessitatibus saepe eveniet ut et...