---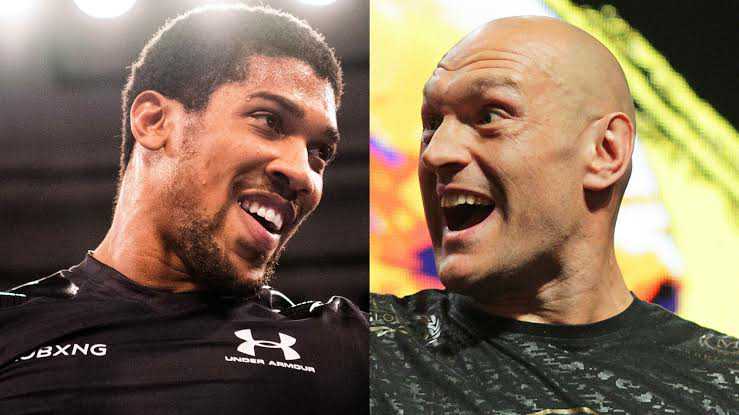 British heavyweight boxers Anthony Joshua and Tyson Fury have weighed in on each other on social media over the uncertainties regarding their unification fight set for August 14 in Saudi Arabia.
The third fight of Fury's Trilogy fight has not happened and yesterday a court mandated that the fight must take place before September 15 putting the scheduled fight between Joshua and Fury at risk.
WBO has now given Joshua 48hrs to sort out the details before he will be mandated to fight Ukranian challenger Oleksandr Uysk and Joshua took to Twitter to vent his frustration at Fury and his camp for their handling of their fight.
".@Tyson_Fury the world now sees you for the fraud you are," Joshua wrote on Twitter
"You've let boxing down! You lied to the fans and led them on. Used my name for clout not a fight. Bring me any championship fighter who can handle their business correctly"
Fury fired back at Joshua's comment, bringing in Joshua's promoter Eddie Hearn into the spat for his constant comments that has plagued the fight with uncertainties since it had been discussed.
"@anthonyjoshua your more full of shit that Eddie, Spouting absolute shite!" Fury wrote, offering to fight Joshua this weekend bare hands if he's so interested.
"Your full team knew there was an Arbitration going on, it was out of my hands! but i tell you what if i'm a fraud let's fight this weekend bare knuckles till 1 man quits? let's put up 20 mill each!!!"
Joshua questioned Fury's team for going ahead with the negotiation and announcing the fight when they knew they had an arbitration going on.
"If there was an arbitration going on, why announce to the world we are fighting! The fight was signed! UNDISPUTED 💥
"Bare knuckle? You're a good kid, don't play with me Luke! I'll slap your bald head & you'll do nothing! Waste man."
Fury unwilling to go into the details online all but confirmed he would be fighting Wilder first before Joshua if the fight would ever happen, apparently calling Joshua by his native Nigerian name, Femi.
"Not going in to the details on line! you'll slap me about will you dosser please come and try Bum, i'm waiting… Femi AKA Bottlejob! 24/7 365. Ready. i'll smoke wilder first then you will get yours as well. #GK"
The fight will be the biggest fight in British boxing history and was reported to be worth about $150m and was scheduled for Saudi Arabia, receiving the full support of the Crown Prince.
---
Trending Now
You may also like