---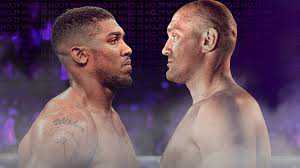 WBC heavyweight champion Tyson Fury says he will quit in the corner and concede defeat in their highly anticipated fight if he doesn't knock out Anthony Joshua in the third round.
The fight between Fury and IBF, WBA, and WBO titleholder Anthony Joshua has been in the plans for almost a year now and both teams representatives have confirmed it will hold sometimes this year.
Fury who is going frustrated with the delay from Joshua's camp took to his Instagram to make a bold statement as cited by boxing247.com;
"While I'm on a rant. I may as well call out one more person. A big, useless dosser. Not a real fighting man. A hype job. Bodybuild(er), crossfit, big, ugly s***house. That's Anthony Joshua.
"AJ, if you're out there, let's make this fight happen, you big dosser. You big s***house bum dosser. I'm gonna smash your face in, too, and there's not one thing you can do about it. Prove me wrong, sucker. Prove me wrong. I'm number one, uno.
"AJ, if you go past three rounds with me, I'll quit in the corner, because that's how confident I am [of] taking you cold out within the first two, three rounds. Out, out like a light switch."
It is believed that Joshua want the richest fight in British history to take place at the Wembley Stadium at a time when fans will be able to attend while multiple report also say Saudi Arabia is also interested in hosting the fight.
Image via Sky Sports
---
Trending Now
You may also like