---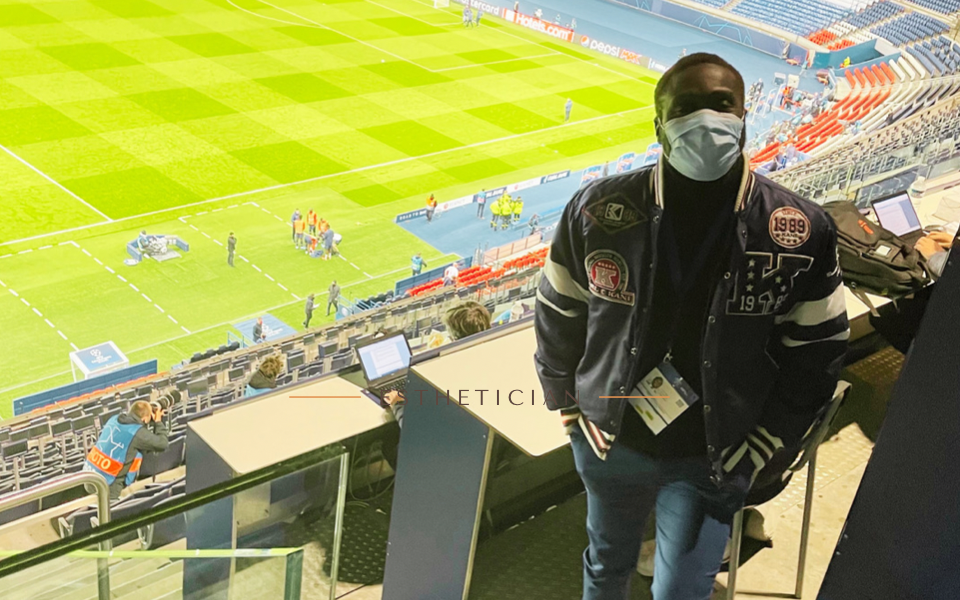 Oma Akatugba, Paris.
It felt good to drive to cover a UEFA Champions League game again. This time, I was headed to France where PSG were to host Bayern Munich in the second leg of their quarterfinal clash.
I drove 8 hours to Paris from my home in Germany. The first 4 hours was done inside Germany and I went through the Netherlands and Belgium and I arrived in the French capital with an absence of the usual electric atmosphere that greets a home game. From the moment I entered Paris, I could feel the emptiness and the sober atmosphere in this city that is usually bubbling and full of people going about doing all kind of things.
Football games in the pre-pandemic times were like a festival. There was a lot of buzz about them but since COVID-19 struck the world, every excitement has been cut by half.
It was in this reality I proceeded into the Parc des Princes, and it was all different, away from the beautiful usual. From the Eiffel Tour where I did my match preview, you would normally see TV journalists of visiting teams filming around this symbolic edifice with tourists and Parisians taking pictures and generally playing around but this tone, it was almost empty and dry.

The Press Conference was empty and quiet like a session at the Notre Dame because it's now done digitally. The usual meet and greet before the matches that brought journalists together was absent.

There were no provisions for chit-chats and this time, you just get accredited, pick up your food pack and head straight to the Press Tribune.
Every seat in the media working area was cordoned off in such a way that you can't sit anywhere in this room, which was usually filled up with journalists working before, during and after the game.
I had to do an interview via zoom with a TV station in Nigeria. I had to hide inside the toilet to do it because for copyright issues, I couldn't discuss the match on video sitting at the press tribune and because of COVID-19 protocols, I wasn't allowed to stand anywhere in the press work area. It was very unusual.
Sitting in an empty Parc des Princes felt totally different. With fans' absence and the usual noise now replaced with silence around the stands, the voices of players and the barking of their coaches reverberated round the empty stands.
I heard players scream a lot and when they do good stuff, the applause was loud and clear from the bench. Although new, it was a strange feeling.
Journalism and these travels now feels just like work. It used to be work and fun, but these times are different.
Lest I forget, there was a scary moment. A loud sound went off outside the stadium and everyone in the stadium thought it was a repeat of the France vs Germany incident. We panicked for a minute before realising that the sounds came from fireworks from fans.
There were no mixed zones after the game and we went straight into digital press conferences. You now sit at the press tribune and do post-match press conference via zoom, inside the same stadium. Even walking to my car after the game felt different. Instead of seeing fans singing as they go home, all I saw were police men everywhere. It was really different from the normal.
I drove for another two hours to Nigerian footballer, Stephen Odey's apartment in Amiens where I passed the night before heading back to base.
It is a new normal and we may have to accept our reality, but it feels abnormal and that's the reality.
---
Trending Now
You may also like