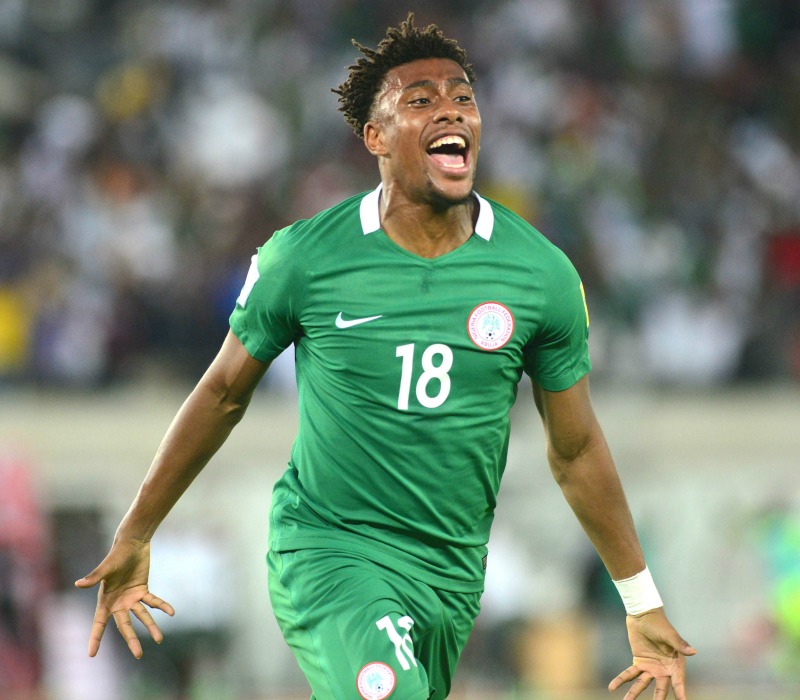 Alex Iwobi is currently a Nigeria hero, having scored the goal that secured a place at the World Cup in Russia next year.
The 21-year old had started from the bench against Zambia, but with the score goalless and the Super Eagles looking stretched by their Zambian opponents, the Arsenal youngster was called into action and within 10 minutes of being on the pitch, scored the goal that earned Nigeria a place in Russia.
And obviously, Iwobi is still reveling in that feeling.
"When I actually scored, the moment was crazy, I remember running off celebrating, he told the Arsenal website.
"I almost cried, I actually almost cried to see how the fans were reacting, to see my mum and dad in the stands; it was just an amazing feeling.
"To go to the World Cup you can see it's not just the players' dream, it's the fans' dream as well and for me to get the goal for us to go through I'm just proud to do that."
Now established in the first team of the Super Eagles, there is another angle to the story for Iwobi. Although born in Nigeria, he grew up in London and didn't really experience the realities of the average Nigerian, all of which he is now seeing first hand courtesy of his decision to play for the three-time African champions.
In what was an emotional moment in the interview, the Arsenal star spoke of how grateful he is for what he has, as he could also have been one of the average Nigerians who struggle daily to live.
"It makes me feel grateful for what I have," he said of the feeling he gets whenever he visits Nigeria. "I have always grown up in England, so I didn't really know how it was back there.
"But when I go back, I see how people struggle in life and life isn't as easy there as it is in England and it gives me a reality check and I try to help some of the people out there."
But it could have been different, as Iwobi, having grown up in London, was eligible to represent the Three Lions of England, but chose Nigeria and subsequently made his competitive debut in an Africa Cup of Nations qualifier in Kaduna in March last year.
And according to him, it was not a big problem choosing his 'homeland'.
"Yeah, it's basically my family, where they're from, where I'm from; it's my homeland, so it's always an honor to wear the green, white and green.
"I mean I've seen so many kids on the street when we're like in the bus, they're screaming "go Nigeria, go Nigeria", so to represent them, I'm just proud."

Must See
Nemo enim ipsam voluptatem quia voluptas sit aspernatur aut odit aut fugit, sed quia...

Temporibus autem quibusdam et aut officiis debitis aut rerum necessitatibus saepe eveniet ut et...