---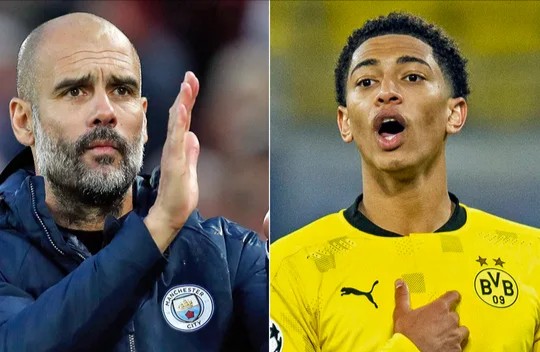 Manchester City manager Pep Guardiola is full of praise for Borussia Dortmund's English youngster Jude Bellingham after a brilliant performance over two legs against Manchester City in the quarter final of the Champions League.
Guardiola could not believe such level of performance and joked the youngster is lying about being 17. Bellingham was controversially denied a goal in the first leg, but scored a brilliant strike in the first half of the second leg to become Dortmund's youngest Champions League goal scorer at 17years 289days.
"I can't believe it, maybe he's a liar!" Guardiola exclaimed when asked about Bellingham's performances over the two legs, as per Bundesliga.
"He's so good for 17 years old, he's a fantastic player. There was one moment when he didn't get the ball from central defenders, how he shouts and demands that ball to him at 17 means a lot.
"I spoke with his manager, Edin [Terzic], and he told me what you see in these two games is like every training session."
Bellingham secured a £22m move from English Championship side Birmingham City to Germany at the beginning of the season and he mentioned it in relation to his performance after the game.
"Not bad for a Championship player, eh?" is what Bellingham told UEFA.com after the game on Wednesday.
"I think I've taken every game in my stride. It was a bit of a tough start away at Lazio, and since then I think all of my best performances in BVB colours have come in the Champions League.
"For me it's brilliant to play in this competition and to play for this club, it's a huge honour. I can take a lot away and learn from that."
Borussia Dortmund were eliminated with a 4-2 aggregate score and are unlikely to be in the Champions League next season as they sit fifth in the Bundesliga table, seven points behind Eintracht Frankfurt in fourth.
Image – Imago/Bundesliga

---
Trending Now
You may also like