---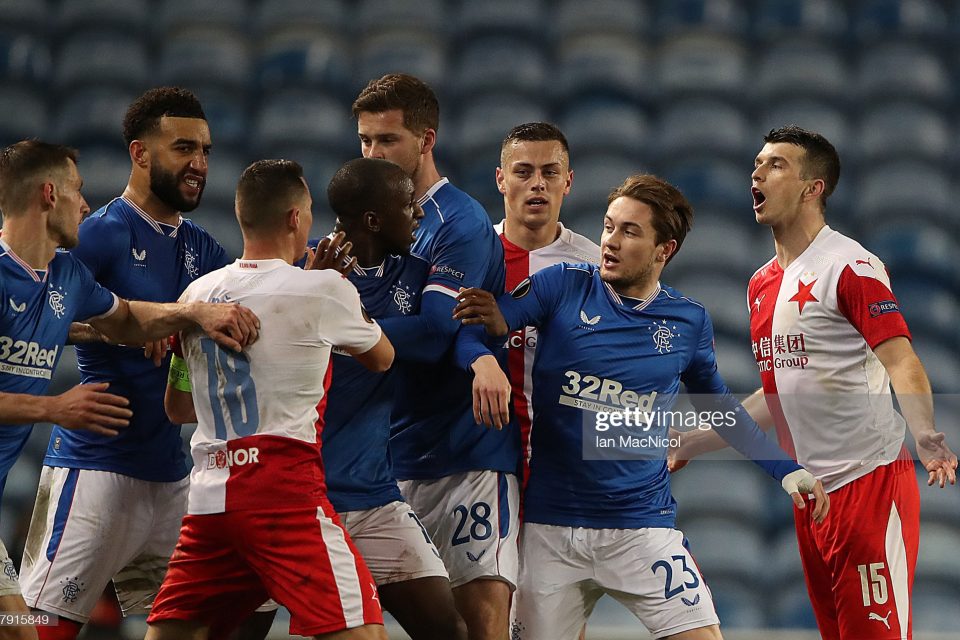 Ranger's Glen Kamara has said he is in disagreement with the denial by Slavia's Ondrej Kudela that he racially abused him in their Europa League tie.
Kamara claimed Kudela called him a monkey in the latter stages of Slavia's 2-0 win over Rangers in Scotland. Kudela denied saying he only used a swear word and not a racist comment, but Kamara in a statement through his lawyer disagreed.
"I was shocked and horrified to hear such racist abuse from a professional football player. As a player I do not expect myself, nor any other to have to tolerate racial hatred on or off the pitch in 2021," the statement made available on social media reads.
"The vile racist abuse by Ondrej Kudela took place on the international stage and any failure to act by UEFA will be viewed as a green light for racism.
"There is no place for racism or any form of bigotry in football. Since the summer many of us have taken the knee in solidarity with those who have lost their lives to racial violence. If UEFA genuinely wants to 'show racism the red card', then it's time to stop the tokenism and take a zero-tolerance approach.
"I am grateful for the unconditional support of my team, our club and especially our manager Steven Gerrard.
"I want to thank not just our Rangers fans, but the many fans from across the football community and beyond, for calling out racism not just against myself, but also fellow player Kemar Roofe, who was subjected to a tirade of racist bile on Instagram.
"We as black players are sick of the freedom that such bigots are given to parade their hatred on social media and wonder when the likes of Instagram will start to take action."
Rangers released a statement expressing the club's stance and accusing Slavia of wanting to deflect the incident. They also confirmed racial abuse suffered by some of their players online as well as confirmed they made a case with UEFA.
"The racist abuse suffered by Glen Kamara will not be tolerated by Rangers… We stand behind each and every one of our players. Regardless of race, religion, colour or creed -if you wear the famous blue of Rangers FC, you are one of our own. Everyone, Anyone.
"Several of our players have subsequently received racist, threatening and sickening abuse online… We refuse to acknowledge any attempt to defend, deflect or deny the abuse Glen Kamara experienced last night.
"We also met with UEFA representatives. This incident has been reported to the UEFA match delegate and we understand that it has formed part of his match report.
"UEFA will be well aware that the football world is watching. We expect a robust and unequivocal response in relation to this incident. It cannot be merely 'swept under the carpet'- we are not prepared for Glen Kamara to be yet another statistic. Enough is enough."
Slavia Praha released a statement claiming a criminal complaint has been filed to the Scottish Police through the Czech Republic Embassy in London for a physical assault on Kudela though BBC sources confirmed that the Scottish Police hasn't received any of such.
"SK Slavia Prague filed a criminal complaint to Scottish police through the Embassy of the Czech Republic in London for physical assault on player Ondřej Kúdela," the club statement reads.
"Physical assault on Ondřej Kúdela was a prepared and deliberate act which included covering of cameras on the site of the incident. The assault was brutal and carried out with the full force with the intention to hurt and cause physical harm to our player.
"In the text, the names of people who witnessed the incident are stated, including UEFA representatives and Rangers FC manager Mr. Steven Gerrard."
Romal Keefe is another Rangers player confirmed to have been racially abused online. He was red carded for a tackle on Ondrej Kolar who was stretchered off and said to have suffered a fracture on the left side of frontal sinus.
UEFA has confirmed it will conduct an investigation into the events at Ibrox. It's the second of a similar incident in a UEFA match after Romanian referee Sebastien Coltescu was accused of racially abusing Pierre Webo firings Champions League match between PSG and Istanbul Basaksehir.
Coltescu was cleared of racism but adjudged to have used an inappropriate language. He was dropped from officiating until the end of the season and to take a correctional class.
---
Trending Now
You may also like