---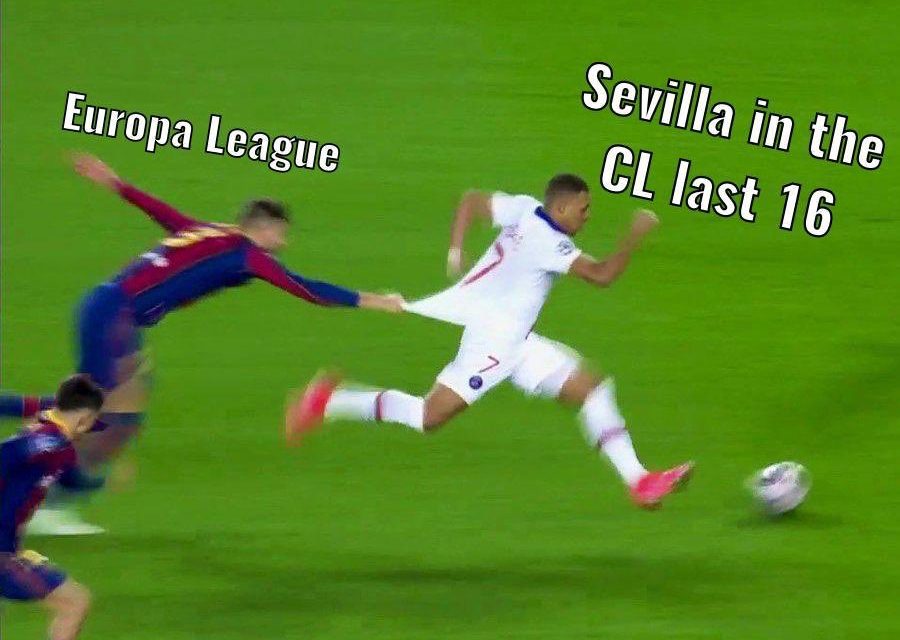 The role of a football club social media administrators have become more flexible and communication with other admins are seen more often.
The engagement is what fans love, one of such was Borussia Monchengladbach admin telling the Bundesliga admin "nobody asked" when the latter brought up results of past games between Gladbach and RB Leipzig during their match at the weekend.
Football is a game of respect and that spirit of sportsmanship has to be shown at all times now matter how much creative clubs go on social media.
On February 17, after Barcelona lost 4-1 at home to PSG in the Champions League, an image from the match showed Gerard Pique chasing the young and pacy Kylian Mbappe and pulled his shirt. The Sevilla admin took up the image labelling Mbappe as Sevilla in the UCL and Pique as the Europa League.
Sevilla are record winners of the UEFA Europa League, having won it six times and they love it in the competition. Barcelona didn't find the image funny and waited until they eliminated their rivals from the Copa Del Rey before responding.
Sevilla forward Suso Fernandez mocked Barcelona midfielder Pedri's call for a penalty in the first leg of the encounter which Sevilla won 2-0. Suso picked a tweet of Pedri's comment and responded with crying emojis.
Former Barcelona captain and legend Carles Puyol didn't find it funny but rather disrespectful and waited in the spirit of "he who laughs last laughs best" to respond on a night when Barcelona had just beaten Sevilla.
A twitter user seems rather unpleased with Puyol's comment asked "Carles, you too?" and Puyol went further to express his mind.
"Also that? For me, you always have to respect your colleagues, and knowing how to lose is as important as knowing how to win, Pedri didn't deserve that, and in football everything comes back. Goodnight." in English.
Barcelona is known to display class on social media. On New Year's Day, the club sent a new year message to rival clubs both in Spain and Europe and it is understandable why they didn't find Sevilla funny.
---
Trending Now
You may also like