---
Luka Jovic says Eintracht Frankfurt are "better now and play at a higher level" than when he left for Real Madrid in summer 2019, and believes the Eagles could qualify for the UEFA Champions League if their current form continues.
"I'm happy and I feel very good here," Jovic said at his first press conference since returning to Germany on Wednesday. "Everything's gone really well since I've been back."
That is quite the understatement. The 23-year-old has scored three goals in three substitute appearances since re-joining Frankfurt on loan from Madrid earlier this month: a brace against Schalke on Matchday 16 and another in the 5-1 thrashing of Arminia Bielefeld at the weekend.
As such, he has played his part in Adi Hütter's side becoming the Bundesliga's most in-form team, with more points (13) and goals (14) than anyone else in 2021.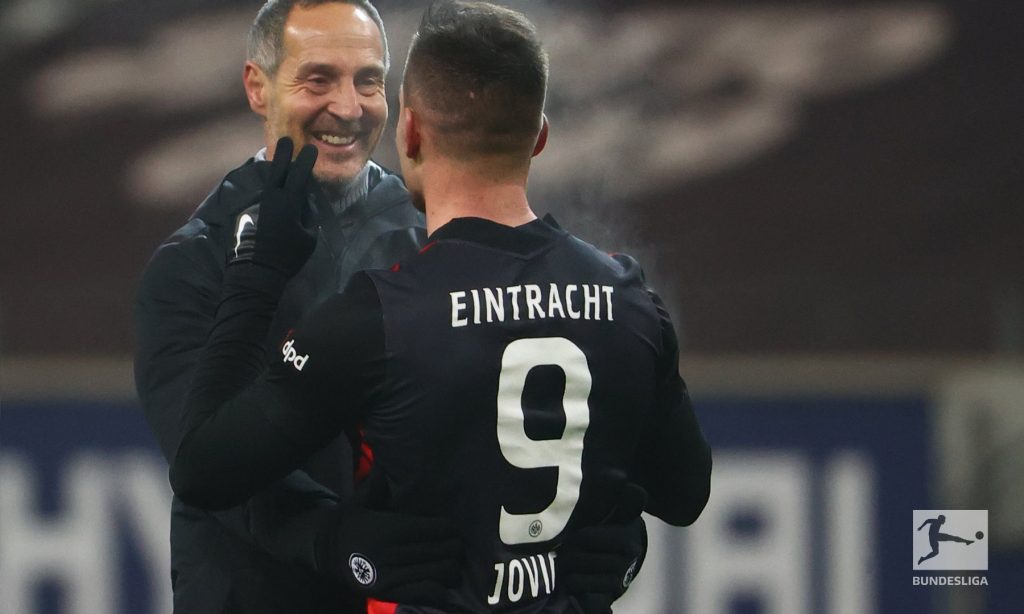 "I've been positively surprised since I've come back," he said. "The quality of the team has improved overall and they play at a higher level now. I don't want to single anyone out, but overall everything's at a very good level."
Having struggled with injuries and a new language in the Spanish capital, Jovic also said that being back in familiar surroundings – he was in Frankfurt for two years before he transferred to Madrid – has helped him hit the ground running.
"The style of play, the city and the team suit me very well. I'm fortunate to have a good standing with the coach here. There are still a lot of players here from last time so it hasn't been difficult to settle in."
And while much is still the same, the forward insists he has changed a little – for the better: "It was an advantage to train alongside the best players in each position. I learned a lot of tricks from them. That helped me gain more experience and I've made progress."
Nevertheless, Jovic is yet to start for Frankfurt, with his three appearances all coming from the bench as Hütter eases him back into the side.
"I still need some time to get back to my best form," he continued. "At the moment I'm working on a couple of muscular issues, but it'll be ok. I'm confident that the coach will play me when I'm fully fit and together we'll find the best solution and the right moment to do so."
For now, the Eagles look set to continue with 14-goal top scorer Andre Silva in the lone striker's role in what is usually a 3-4-2-1 formation. Still, the pair have played together in each of the three games Jovic has featured in so far, making their potential strike partnership a truly exciting one.
Jovic, however, believes that too will take time: "It's too early to talk about harmonising with Andre. We haven't had a lot of chances to play together. But I think the more time we have together on the pitch, the better we'll become. He's a great guy, we'll get there."
Be that as it may, Frankfurt are already flying, and have climbed from being in ninth place and eight points off the top four at the start of the year, to sixth and just two points adrift of fourth-placed Wolfsburg.
"We're capable of achieving great things this season," Jovic said. "Andre was right when he said that if we keep performing as we are, then we've got a good chance of qualifying for the Champions League."
Cover Image ©DFL
©Bundesliga
---
Trending Now
You may also like