---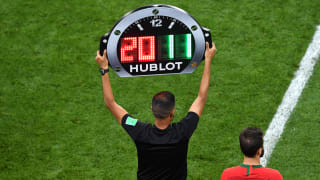 World football governing body FIFA has today confirmed that it will trial additional permanent substitutions for cases of actual or suspected concussion at the FIFA Club World Cup™, which is due to take place in Qatar from 1 to 11 February 2021, thus becoming the first international competition to test the procedure.
Following FIFA's input and extensive consultation with key stakeholders, the protocols for concussion substitutes had been approved at The IFAB's Annual Business Meeting (ABM) in December 2020 with a view to:
•sending a strong message that, if in any doubt, the player should be withdrawn;
•preventing a player sustaining another concussion during the match, as multiple head-injury incidents can have very serious consequences;
•reducing the pressure on medical personnel to make a quick assessment; and
•establishing a simple procedure that can be applied at all levels of the game.
In line with The IFAB's circular no. 21, FIFA will implement a protocol in which each team will be permitted to use a maximum of one concussion substitute in a match; this substitution will be able to be made regardless of the number of substitutes already used.
The trial of concussion substitutes will be applied in conjunction with the competition regulations and the return-to-sport strategy outlined in the Sport Concussion Assessment Tool (SCAT 5).
The draw for the FIFA Club World Cup™ will take place on January 19, 16:00 CET in Zurich.
©FIFA
---
Trending Now
You may also like