---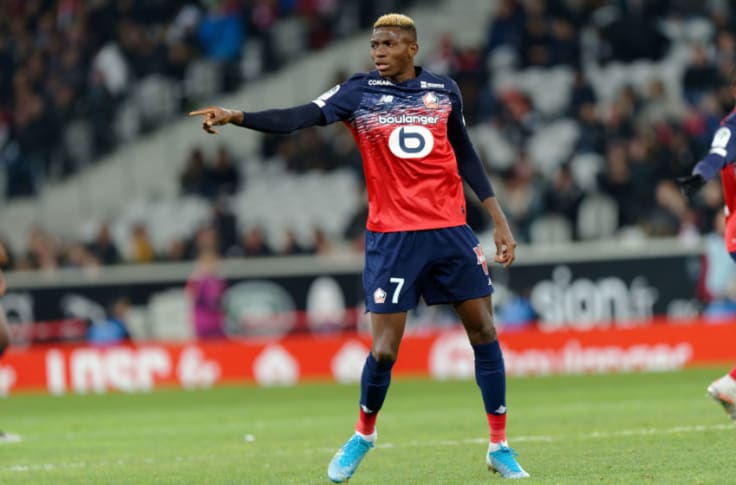 Oma Akatugba

Nigerian star attacker, Victor Osimhen's journey so far has been a thrilling story.
From being on the verge of being left out of the U-17 team in 2015 to stepping his game up to take the mantle, and leave the world astounded by his monstrous goalscoring instinct, Osimhen's young career has come some way too.
The allure of Europe came to fruition after the U-17 World Cup in Chile, when he signed a contract with German Bundesliga side, VFL Wolfsburg. The story has been smoother than soiled ever since as he has established himself as one of the best strikers in the French Championnat. He holds the illustrious tag of being one of the youngest and deadliest marksmen in European football.
Osimhen talks about his life, rejection, dejection and how he turned the table around.
"A lot of people wrote me off and all like that, there was a time I was even doubting myself, so I think to stand firm, kudos to Joshua (Guilavogui), he stood by me during the darkest time of of my life and he told me everything he went to when he came to Europe for the first time so I saw him as an African brother and what he's gone through, he told me I have to be focused, I have to keep on working hard and he gave me some keys if I want to succeed as a footballer in Europe and this whole thing is one of the reasons I am where I am right now."
A hotshot at the U-17 World Cup In 2015, his ten goals helped Nigeria to its second consecutive success at the cadet level. The quality he showed at the tournament was huge for a youngster and it was noticed by the right people.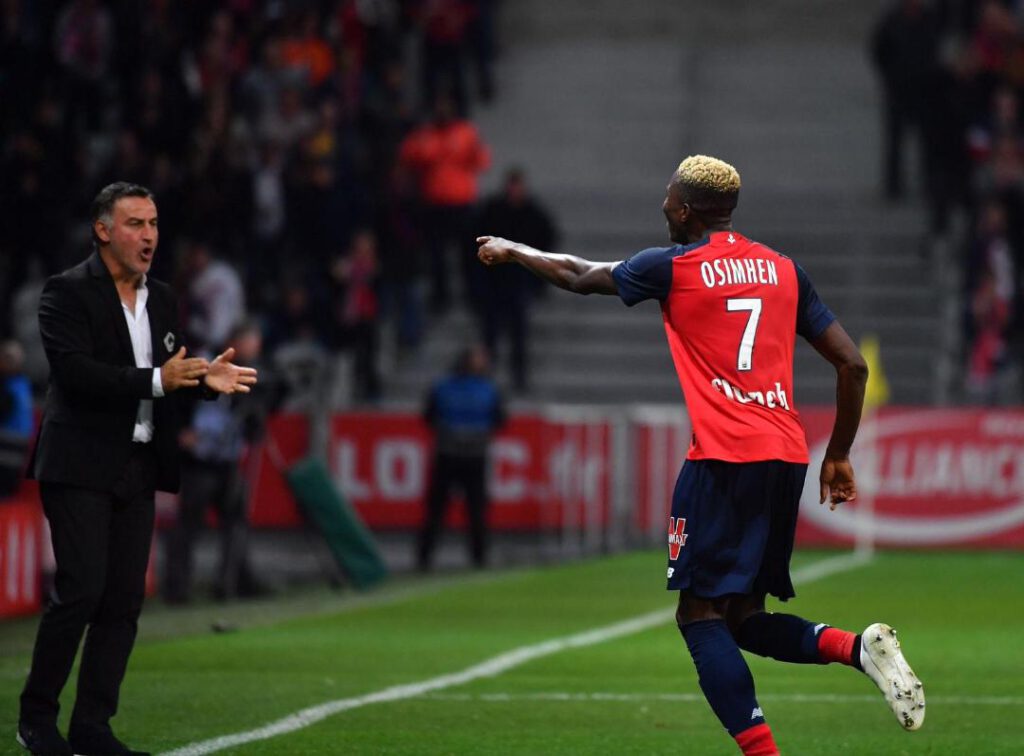 "After the U-17 World Cup, I was really happy to sign for the German outfit (Wolfsburg) and a lot was being expected of me and things didn't go as planned, I had a surgery on my knee three times," Osimhen recalls.
Osimhen was accompanied to Europe by members of his family, who stayed with him for a few months while he settled. He admits to having a real culture shock on his arrival in Europe.
"Of course, when I first came to Wolfsburg, it was my first time of coming to Europe after I left the World Cup.
"When I came, the food, the way people talk to you, the language, the weather and everything is quite different. At first when I got there, it was really cold and I was telling myself, can I do this? Can I not do this? And something like that. The first three months was really really bad and well, I was able to conserve myself and look towards my future because this is what I want. If I stay in Nigeria and work, no matter how I work hard I won't get the opportunity I got when I was in Wolfsburg and it really helped me, my time there really helped me, I would say it was a blessing in disguise."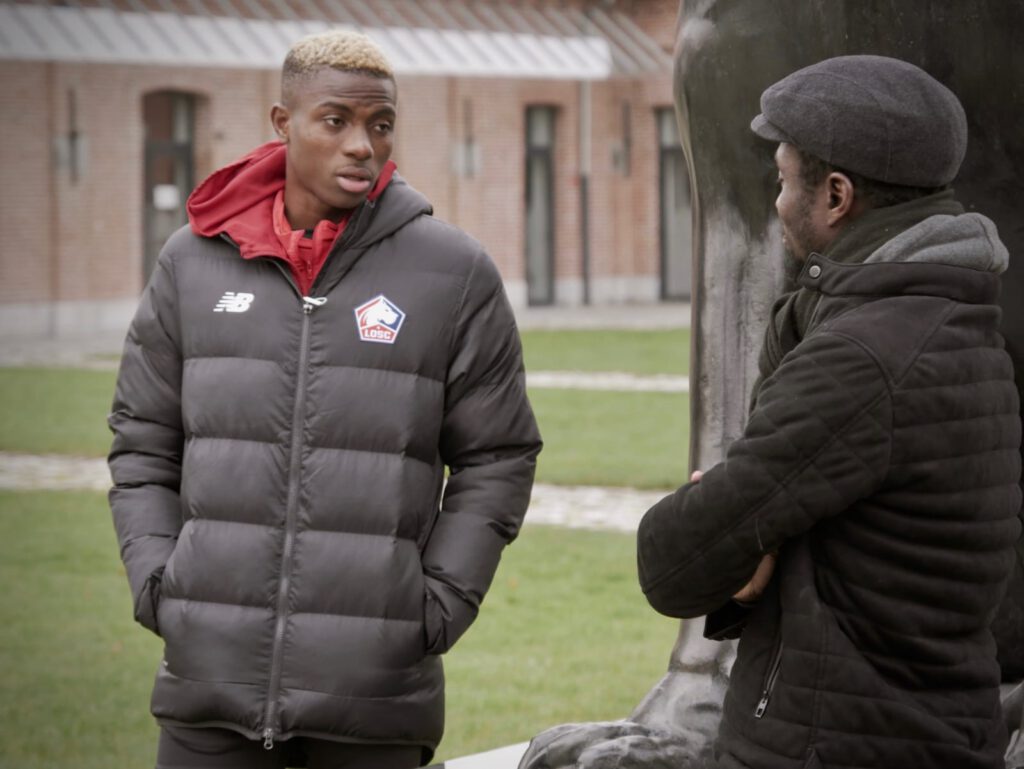 There's usually a rapid change in mentality by African footballers when they travel to Europe. Osimhen said while he had to adjust to the dictates of his new environment, his personality and approach to life didn't face a turnaround.
"A lot has changed, in terms of exposure, in terms of how they treat football here. But I'm still the Victor, I'm still me. I'm really happy I came to Europe to learn, to make my family proud, in as much as I went through a lot of dark times in my life, I'm really happy this moment taught me to be the strong man I am today and I'm really happy and grateful to God for this moment."
A very young Osimhen once had to sell newspapers on highways in Lagos, Nigeria's and Africa's most populous city, to make a living. He said his very humble beginning charges him to work even harder. It rekindles his flame and makes him very hungry for success.
"Everything I went through when I was in Nigeria and everything while growing up, I think it set my path to where I am today and whenever I'm in my free time, I reminisce on the past, I give myself some candid advice to help me in my future and in my games also and my humble beginning makes me the person I am today. It's me never never wanting to give up and everything I've been through, so whenever I'm on the pitch, whenever I think about where I'm coming from, my family background, I don't want to relent, I want to make them proud and I want to give my all."
The Lille attacker has lived in three different cities in Europe and he says he finds them all interesting in their own rights. While the cars at the Volkswagen Arena are a sight to behold, he stated his preference for Lille, a city in Northern France and the base of his club FC Lille Metropole.
"I would say Lille is my favourite but Wolfsburg is a very beautiful city and of course I love the Volkswagen Arena because of the cars and everything like that but it's a small city with lots of people and Charleroi is also nice, my second family and it's a big city and very ambitious people there and very nice people, and here in Lille they have everything compared to the two, big city, big facility and nice people that could make you feel at home and everything. I really love the three cities I've played in, they're really good cities and I really love them.
Osimhen had an uneventful time in Germany, no thanks to the injuries he faced. He had a few Bundesliga and cup appearances under his belt but said Wolfsburg gave him a platform to learn, and prepare himself for the huge career ahead of him. "At first, I would say I have moved on but I said some years back that I have a point to prove at Wolfsburg but I couldn't get the chance to prove it and now I'm here and proving it and I'm sending messages across and a lot of them are sending me messages also, calling me, congratulating me, and I'm really happy because everything I am today, the kind of player I want to be in future, some credit goes to Wolfsburg also because they shaped me into the kind of player I am now or I'm wanting to be in future and kudos to them also because without Wolfsburg I don't think I'd be more exposed like this."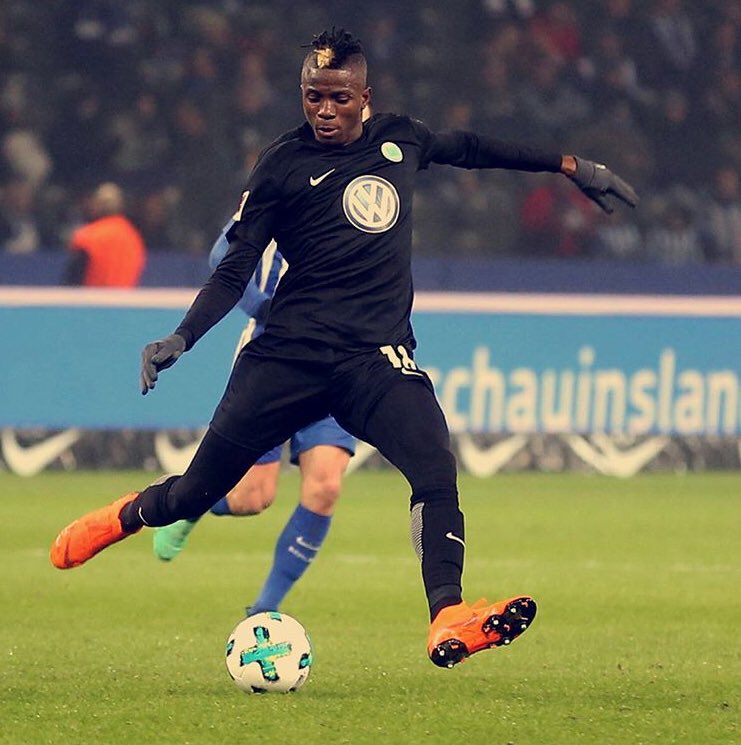 He said a return to German football may not be off the mark for him, as it is one of the best and most competitive in the world. "I'm really happy but maybe in the future you never know maybe I might go to Bundesliga because it's one of the best leagues in the world with a lot of quality players, of course you never know what the future holds, maybe I might go there or maybe not."
A critical section of football followers have touted his good goal return in the Ligue 1 to the perceptively average quality of the league. However, Osimhen disagrees with those theories saying the league is one of the toughest in Europe.
His 13 goals and 4 assists in the French League has made him one of the leading scorers in the league, tied with Neymar and 5 goals behind the leading scorers, Kylian Mbappe and Wissam Ben Yedder.
"The league is not easy, it's not easy as some people look at it, it's a very competitive league and you have to play among the best and lots of impressive defenders you have to face everytime you meet them, they know this is Osimhen, this is Neymar, and they don't want to get embarrassed by these players so they have to go hard, and I receive a lot of kicks even without the ball, I think it's one of the most competitive leagues around the world."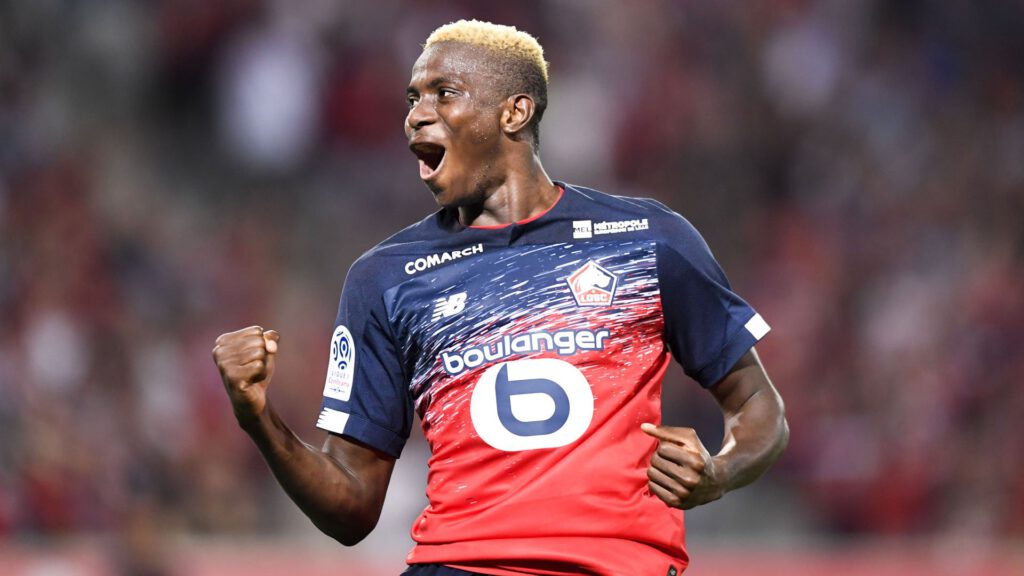 Before the start of the season, Osimhen had a set a 20-goal return for the season for himself. He said the top scorer's gong is not his ultimate goal at the moment, as he would want the team to earn a spot in the UEFA Champions League next season.
"Being top scorer in the French league is not my priority, I'd trade it for a spot in the Champions League and for me I think my objective is for the club to do well this season and be in European competition next season and so I think we're really looking forward to it and we're really working hard.
"We're a young team with some experienced players, also I'm really looking forward to getting to know my players more, how they move and everything like that. It's been three or four months now we've been together and we are working hard in training to get to know each other better."
On-loan Manchester United attacker, Odion Ighalo successfully led the Super Eagles' line to the 32nd AFCON in Egypt. While Nigerians waited to see an understudying Osimhen feature, their wishes were not granted until the third place encounter against the Carthage Eagles of Tunisia. The attacker bagged a goal from the spot in the game and he hasn't looked behind ever since. His rise to prominence coincided with the shocking retirement of Ighalo, but Osimhen has proven to be a shoo-in into the role, already bagging important goals in the 2021 AFCON qualifiers and giving a very good account of himself in the team's friendlies against Ukraine and Brazil.
"It's been one of my dreams to play for the Super Eagles, and I'm really happy I'm living that dream now, shoutout to Ighalo and the past legends," he said.
"And of course you know whenever you play for Nigeria, you give everything, on and off the pitch you want to be disciplined and all, I think we all carry the nation on our head when it comes to football and this is one of the things that gives the masses total joy. I'm really happy I'm thriving well for the team, not just me and the rest of the team, we're really looking forward to making the fans happy."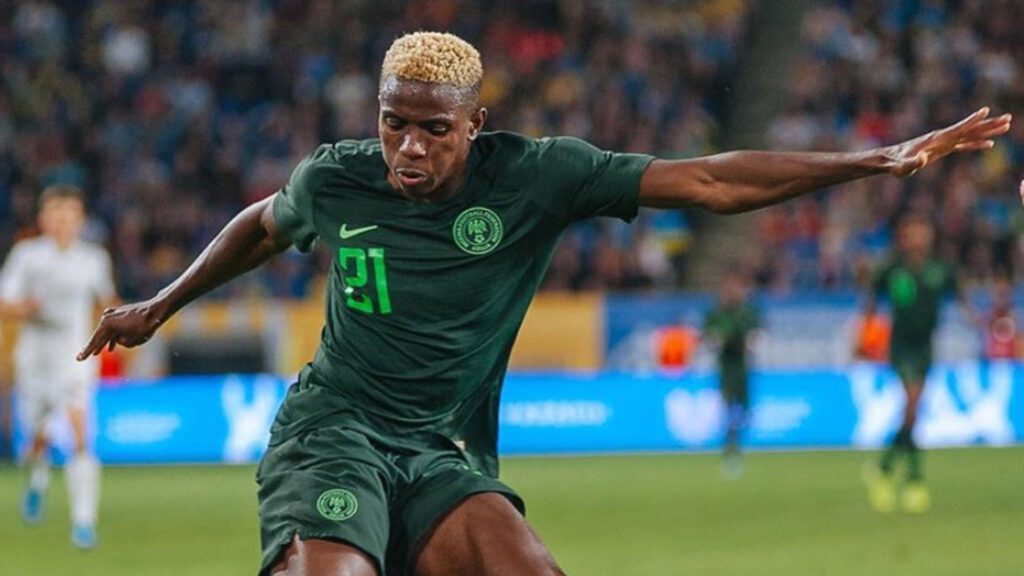 Many have compared him with Nigeria's all-time top scorer, Rashidi Yekini and he said he appreciates the comparisons but doesn't see himself in that light yet.
"At first, I feel honored for what he's done in the past for the Super Eagles and I think a lot of fans see some quality… , because I never watched him play, I only go to YouTube to see his videos and a lot of football fans would say he has what Yekini has when he was playing and all, so to be compared with him, I feel honored but I'm still far far from what he's done from the Super Eagles. I hold him in high esteem, I think for what he's done, it'd take me few years to equal or surpass it but I think it's best to compare him with the likes of Ighalo, Martins, Yakubu Aiyegbeni and the rest but for me to want to fit into the shoe, I still have a lot to learn, to be disciplined and everything like that and of course I'm ready for a lot of criticism because as a player and as a human you'd be criticised no matter what you do, I'm really looking forward to that but I would continue to give my all to the national team and also getting the goals for them."
On the impact Super Eagles' Franco-German Coach, Gernot Rohr has had on his career, he said;
"First time I knew he really saw some potential in me, I just came back one month from my surgery for my rehab and he invited me to the Super Eagles camp in Paris. When we played a game against Togo, he spoke to me to keep on working hard. I could remember vividly he said to me if I keep on working hard like I'm doing now I might be the future of the Super Eagles and I hold on to that word on high and that set my path to wanting to give my everything to send a message to him that I think I'd be ready in few years time, for me now to be the number one striker to score the goals and I think I'm really happy, kudos to coach Rohr, he really helps me in my career as well.
Emmanuel Amuneke, a former Super Eagles and Barcelona winger had unleashed Osimhen and his very good friend, Samuel Chukwueze on the world in 2015. Chukwueze has also been a sensation with Villarreal in the Spanish La Liga. The Lille attacker speaks about their very solid relationship.
"We've been friends I think 5years now, I met him when I went to a training pitch.


"When I met him he was this guy everyone calls Messi because he dribbles from the midfield to score and everything like that, so I fell in love with him and after we went to the camp, I went to the camp with them and from there we just clicked, we call ourselves "hey bro, you're good?" Sometimes I'd go to his room, we'd joke we'd play and since then he's been the person I saw 5years ago and even up to date and every time I play a game, he calls me or he texts me and he criticise me also, "hey bro, you're supposed to do this, you're supposed to do that and I don't think I need any more friend other than that, if my friend doesn't criticise me I don't think you're my friend, so Chukwueze is not just my friend, he's my brother from another mother and I really respect him a lot."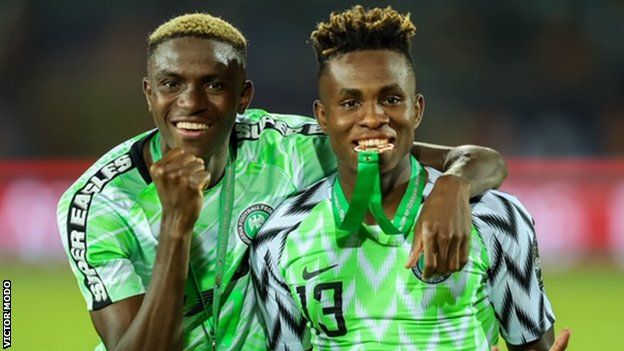 Osimhen didn't mince words when he was asked about the person with the greatest influence on his career. "Emmanuel Amunike!" he said.
"All I am and could ever be, I owe it to that man. I remember when I first entered the camp, we were having training at 4:30, we're supposed to be there but being on the road we'd get there 4:35 4:40, my roommate went and he couldn't speak to the team and then he called me and was like you, you have to be disciplined, it's not only about playing. Everything he has taught me, everything he said to me then are working for me now and words cannot express how grateful I am to him, he brought out even the qualities I don't now I posses, he brought it out and shows me how to play this football and I'm still learning. I'm really grateful to that man."
He said discipline has always been his watchword, due to his very strict parents. He revers his late mother and attributes his good discipline to her.
"My mom was a very strict, strict one before she died and there was no way we could look up to our elders and want to insult them, my mum would be the first to attack us and beat me even me because I'm the last born. My father worked with the Nigerian Police, he was really strict and my siblings, all my brothers and sisters are really disciplined and I think it's one of the best home training I could ever had, I think when you're disciplined in life, everything works well for you no matter the circumstances and everything. I'm really happy I chose this path for myself."
On his relaxation, Osimhen said "After training, first I take my recovery boot and relax a bit, just be in my airpod or I'm on YouTube trying to watch some of my previous games or I'm watching the likes of Didier Drogba, Lewandowski and all these strikers because I google them and try to look at what they do and try to add it to my own game because it's really important. These moments whenever I have the chance and I watch it, I cherish it a lot. After I take a nap, maybe one or two hours, I have my lunch and watch TV, and this is just me."
When quizzed about the secret behind the quality of his spoken English, he said in pidgin (broken English), 'I repeat class when I dey secondary school o', meaning he repeated a class in school.
"I think I have this teacher, she was my English teacher then, after school, she normally takes us some prep, 30-45mins max and she'd try to make us know the importance of speaking good English and all, I'm really happy I could stay because most of my friends couldn't bear it, but at first when I was in SS2, I actually repeated the class, I was really down, I was really upset but I told myself that this SS3 wey everybody dey enter so, I go like go am, so I was really adamant and I was really serious in school and 7:30 I was already there in school putting all my head, my brain into what I'm doing and when the result came I was promoted to the next class and I was really happy. All these English wey I dey speak now so, na my secondary school I learn am, and most of these movies I watch are really good to me to wanting to learn very good English."
On how he cools off on Instagram; "What should I say? I think a lot of them but sometimes I go to this motivational page, sometimes when I'm on the search explore, I see it, click and save some of the important motivational quotes that I see and sometimes in my spare time I go to my saved items and see all these things and I think this is the right thing to do. I think one of this is the motivational page on Instagram.
Follow For Follow, Likes for Likes?
I think for me it is ehn, a lot of people text me and say when you follow me, I think it'd be so great and I don't say anything, I just go to the page, just click follow back. For me it's about if I decide to follow you, it's not about follow for follow.
On his his music attraction, "I think I love rap music a lot, I flow with Olamide, Reminisce, Oladips and the rest.
---
Trending Now
You may also like